In Response To: It's not real... (Charley117)


: I thought I'd just add to my first post on reason's why I don't believe this
: to be real.

: Firstly, the manual cover isn't the one previously linked, and the image of
: Cortana is from the Halo Graphic Novels art section.

: Secondly, the perspective on the MC's shotgun, and the stand from which
: Cortana is emanating is all wrong.

: It's just the one area of the contents that couldn't be easily faked, and it
: looks exactly that... faked.

: - Charley

Not to be rude, but I think you're kind of in denial. It is not the image from the HGN.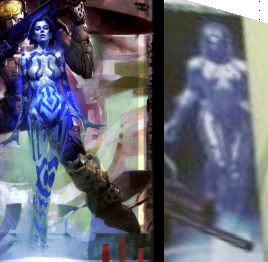 There's no way you can claim they're the same image. On the left, Cortana is well-light and disturbingly slender, with her palms down, her head raised, her legs together, and the Chief behind her. On the right, Cortana is in shadow, well-built, palms facing the viewer, hanging her head, with the Chief's shotgun in front of her. It's not the same.