In Response To: Re: Cheats (Raigns)
: Read here .
I don't agree with that post. THIS is what I (well, more or less as applied to Halo) agree with: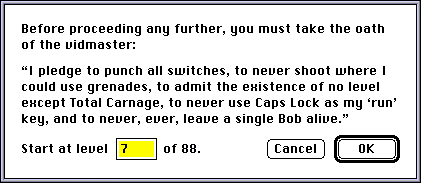 Just vid it... with style!
Nothing looks *more* UNstylish to me then to exploit a glitch and skip parts of a level. It's not that I think it's pathetic, or that you're a loser if you do it... it just doesn't count as the highest accomplishment to crow about in my eyes. Someone tells me he beat the game, killing *all* enemies, or stylishly dispatching lots of them, now I am impressed. And the shorter the time, the more impressed I am. As the rules page above mentions... it's in the eye of the beholder, in other words *there are no hard and fast rules that can be applied to every single level* You watch the vid, you get to decide whether the run is justified or not. I know when I've watched earlier speed runs in Halo 1, and I see all this fighting and action going on, and then a grenade to a shield, a careful positioning on the shield as it recharges, and then POP! you're up above the map vertices... it's neat, and certainly clever that it was discovered, exploited, etc... but it can no longer capture the title of 'best run evuh!' in my book.
- M